Researching the top Oktoberfest beers this year? Here are the most searched and top-rated Oktoberfest beers this year.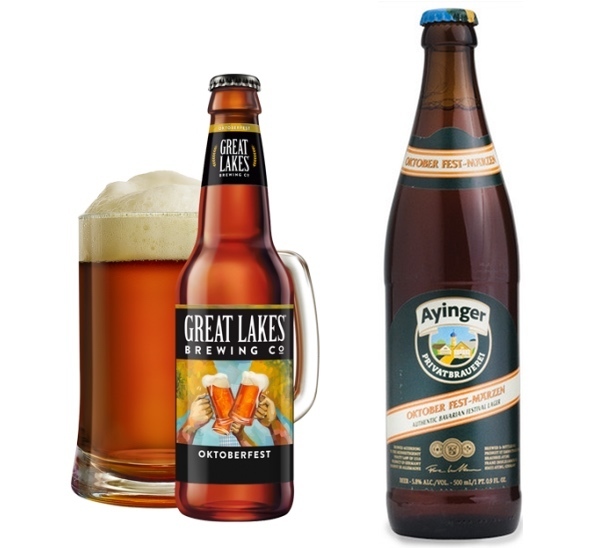 The beers that keep showing up as most searched and highest rated this year are the Ayinger Oktoberfest and Great Lakes Oktoberfest.
Most Searched on BeerMenus
Top Rated Oktoberfest Beers
Augustiner Bräu Märzen Bier

Surly SurlyFest

Olde Mecklenburg Brewery Mecktoberfest

Ramstein Oktoberfest

Great Lakes Oktoberfest

Sierra Nevada Oktoberfest - Mahrs Bräu Collaboration

Staghorn Octoberfest

Ayinger Oktober Fest-Märzen

Spezial Rauchbier Märzen

Berkshire Oktoberfest Lager
Heater Allen Bobtoberfest

Ayinger Oktober Fest-Märzen

Dark Horse Octoberfest

Free State Octoberfest

Surly SurlyFest

Sweetwater Dank Tank Danktoberfest

Fair State Festbier

Sierra Nevada / Mahrs Bräu Oktoberfest (2016)

Oersoep Oktoberfest

Ängö Oktoberfestlig Ängöl Märzen
Food Pairings
Ayinger Oktoberfest Märzen + Roast Pork Loin
This toasty, malt-forward beer brings out the rich browned flavor and subtle sweetness of the pork.
Firestone Walker Oaktoberfest + Carnitas Tacos
Perfectly balanced, the sweet malt of this full-bodied lager complements the pork while the hops mingle with the spice of the peppers and cilantro.
Avery The Kaiser Imperial Oktoberfest + Smoked Beef Ribs
The spice of the hops and higher alcohol content of this Imperial Oktoberfest counters the fat of the ribs, while the toasted malt marries well with the smokey flavor.
Hofbrau Oktoberfest + Soft Pretzels with Spicy Mustard
Opt for this authentic Munich beer - created specifically for Oktoberfest - with its classic pairing.
Victory Festbier + Pizza
The acidity in the pizza's tomato sauce cuts the slightly sweet, smooth Marzen/Oktoberfest-style brew.
About The Author
Will Stephens is the Co-Founder of BeerMenus. He's a Certified Cicerone®, regularly proctors Certified Cicerone® exams, is the co-organizer of the Road to Cicerone Q&A series, is a regular homebrewer whose beers frequently pop up on the BeerMenus HQ page, and a huge proponent of dry-hopping cold-brew coffee.