We recently sat down with Travis Koester, owner of The Local Tap House of Nyack. We talked about life in the bar industry, his beer program, and his Digital Beer Board.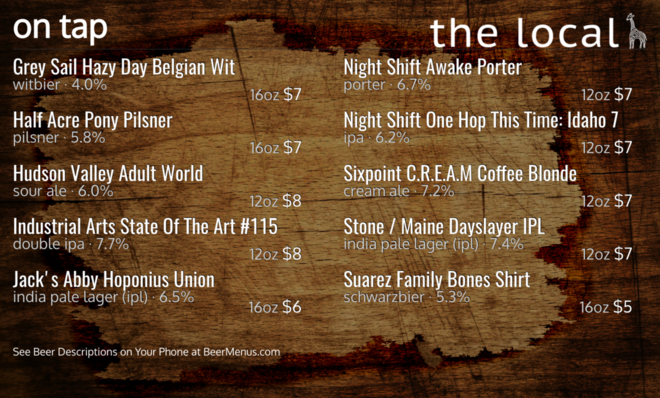 A screen grab of the Digital Beer Board BeerMenus Customer Success created, based on Koester's customization wishes.
Travis Koester, owner of the Local Tap House of Nyack, has worked in the bar industry for 10 years.
So when it finally came time for him to open a bar of his own a couple years ago, he already had a vision for it.
First, it had to have good beer. No brainer.
But that's not all. A beer lover himself, Koester knows personality is important in the beer world. "I've been to a few high-end craft bars that have an air of pretentiousnes," he said. "They're almost dehumanized. Instead of that, I wanted to have a real, welcoming feeling."

Koester sitting at The Local Tap House's bar.
So what does that mean in Nyack, 30 miles north of New York City?
When it comes to food, it means a delicious hot dog menu.
And when it comes to beer, Koester said he "wanted to do a blend of mid-level craft that most people know and the high level stuff." He added, "I like introducing people to new things, and I wanted mid-level craft to be like a gateway drug. I wanted to take those mid-level craft drinkers into high-level craft."
But transitions like that don't just happen. According to Koester, one of the best ways to enable it is also one of the simplest:
People have to know what you have if you want to sell it.
Because that fact is so simple, a lot of bars and restaurants overlook it. But Koester doesn't. In order to ensure his beer list gets seen, he uses an easy-to-read, always up-to-date Digital Beer Board that greets customers right above the bar.

Day and night shots of The Local Tap House's Beer Board in action. Gotta love the Christmas lights.
How has it worked for Koester? Pretty darn well. For one, he reports that his beer sales have increased. "People are more aware of the beer situation. They come in, they know to look at the board, and then they order. It's as simple as that." And when you're dealing with a busy bar, that simplicity makes a big difference in smoothing out the ordering process.
And for the busy Koester, the ease of use—from setup to updating to customer support—is equally important. The Digital Beer Board was customized to the look and feel of The Local Tap House, and once the design was finished he easily got it up and running in just a few minutes.
Anytime he needs to update, he can: "whether I'm in San Diego or in the walk-in cooler, I can update the Beer Board right from my phone." Just like that, his beer list is up-to-date.
Moreover, anytime he wants to make design changes, he gives BeerMenus Support a call. A new design is ready quickly, almost always same-day.
Asked if he would recommend Digital Beer Boards, Koester responded vehemently: "Yeah, of course. I use it because it works for me, and you guys have always been awesome." He added "That's why I sent all you guys shirts from the Local Nyack."
That's no lie. The shirts arrived last week, and they're being proudly worn throughout the office:
Check out The Local Tap House on BeerMenus, Facebook, Twitter, and Instagram.
---
Three easy steps to get started on your beer board:
Add your beers.
Preview your Beer Board using default templates, or work with us on free customizations.