Below you'll find the beers we're pairing with each of our Thanksgiving meal courses.
Note: We chose these particular beers for two reasons—first, they're relatively widely available throughout the country. Second, they're solid examples of their style.
That said, if you can sub in a beer from a local brewery, do it!
---
The purpose of an aperitif is to stimulate the appetite. That means you're not looking for anything too heavy or rich. You want something light and crisp that can ease you into the gluttony that's fast approaching. Prima Pils gives you that, and adds in a fair amount of bitterness, which also helps to stimulate the appetite.
---
Ahh, Thanksgiving appetizers. Grandma's fancy port wine cheese and cracker spread...or Velveeta and Wheat Thins. Regardless, having successfully activated your appetite, you're looking for something that enhances your appetizer experience. For that, turn to Saison Dupont: still light and crisp, but also slightly spicy with a farmhouse flair that makes your pre-meal snacking a little more enjoyable.
---
Turkey, gravy, mashed potatoes, stuffing, sweet potatoes, etc. ...it's a rich meal, and you want something that helps those flavors shine. Brooklyn Local 2 is your choice. Belgian yeast, spices, and dark fruit flavors enhance the richness of the Thanksgiving Main Course.
---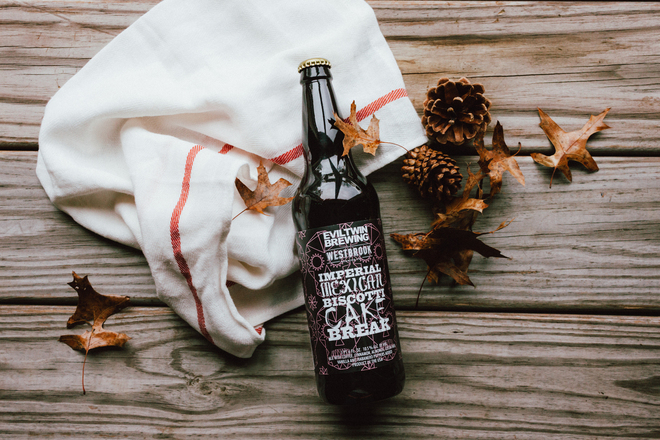 The Thanksgiving meal's unique perversity is that it saves the best for last: pumpkin pie. Pair a decent-sized piece (no point downsizing now) with a small pour of this rich 10.5% imperial stout.
---
Finish off your night with another imperial stout. Like the Evil Twin/Westbrook collaboration, this one is rich and thick, but its distinct bourbon bite cuts through that richness to help settle your expanded stomach.