Just like every year, we drank a lot of beer in 2017, so it was a little tough for each of us to choose our our single favorites. We did, it though. [Pat on the back.]
Check 'em out below and let us know on social media if you agree with one of us, applaud another, or think one of us has the unrefined an undiscriminating taste of an ape.
Cheers!
---
---
Eric Stephens | Co-Founder & CEO
Photo courtesy of Neshaminy Creek Brewing.
There's no doubt about my favorite beer of the year. My wife and I were out at Rehobeth Beach in Delaware. The trip was extra special because our third daughter had been born four weeks earlier, and this was out first night out.
I was considering two local IPAs, and our server strongly recommended The Shape of Haze to Come. She mentioned how much the staff loved it, and I'm a big fan of Neshaminy Creek, so it was an easy choice. I enjoy NC's more widely released The Shape of Hops to Come, but the limited release Haze blew me away. It's modeled after those delicious New England IPAs we've all come to love: a combination of dank aroma and juicy flavor that goes down almost too easy.
A delicious, special release from one of my favorite local breweries, enjoyed on draft alongside my wife, with whom I had a lot to celebrate. Like I said: there's no doubt about my favorite beer of the year.
---
Alex Yedibalian | Head of Business Development
The Finback fellas. Photo courtesy of Steal This Beer.
I recently ran an in-person test for BeerMenus at Beer Karma, a great beer place in Williamsburg. I got to know the owner, Dan, pretty well during the multi-day test, and I've since started to bartend a shift or two per week at BK.
I've learned that Dan doesn't put a ton of dark beers on his tap lines—even during this frigid time of year they just don't sell as well as the juicy IPAs that are sweeping the nation. Still, he dedicates one of his lines to either a stout or a porter, and I was very happy to see High Contrast make an appearance during a recent shift. A big imperial coffee porter made by our friends up in Queens? Yeah, I'm in.
---
Joe Masilotti | Lead Developer
Hazy, tropical, and oh-so-hoppy, this one brings me back to the beers I love back home, NEIPAs. Earlier this year I lived in New Orleans and this beer was always my first choice, whether I found it on tap or in a can. What's better than a beer style I love, but infused with the local voodoo-crazy of NoLA?
I'll go ahead and answer that hypothetical: not a lot.
---
Zack Purdo | Business Development
Photo courtesy of @nateandhisbeer.
I had a lot of great beer this year, so it's definitely tough to make this call, but there was just something special about Bench Buddies 2 that stood out among all the other cans I've sunk this year.
I live in Delray Beach in South Florida, and Civil Society is easily the best brewery in this part of the state. Currently it takes about 40 minutes to get from my place to the brewery. Not terrible, but obviously not great. I'm pumped, though, because good news is on deck for 2018: they're opening a location in West Palm Beach, and that'll cut my tasty beer commute time in half!
---
Dylan Blake | Marketing
This was my pick last year, too, and I'll have you know I caught some flak from the team for making a repeat choice. Whatever.
I love this beer, and it was even more of a no-brainer this year, since my wife and I moved from Brooklyn back to Wisconsin, Central Waters' home state. After the move I had a few of last year's bottles left, but they didn't last long into the summer.
This [tragedy] meant I was bone dry for months. Well, one morning in mid-November my luck changed. I walked over to my local grocer here in Madison, Jenifer Street Market, and they'd just received their shipment. I stocked up to such a degree that 2018 will be an extremely comfortable year for me.
---
Gage Moody-Siegel | Head of Customer Success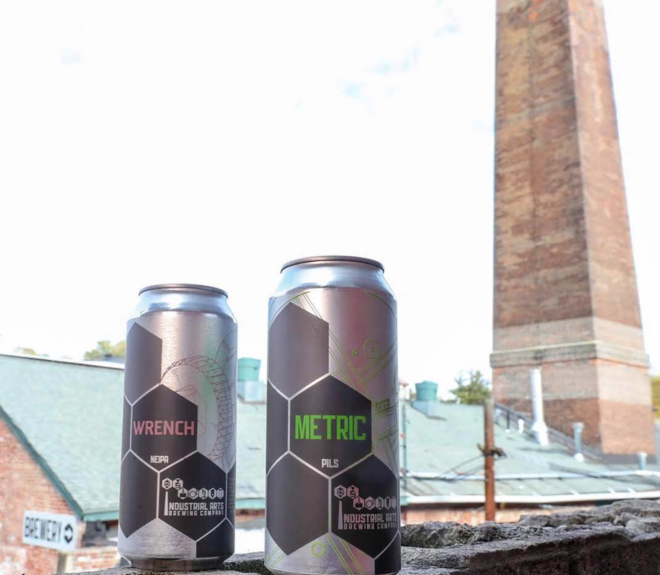 Photo courtesy of Industrial Arts.
My favorite beer of the year has to be Industrial Arts Metric. Chief at Industrial Arts is a brewing legend—all his beers are incredible (especially Wrench, his NEIPA), and this beer cements his fully-rounded brewing skillset. It also cemented summer 2017 as the Summer of Pils for me!
I had Metric for the first time while en route to Tap NY with our friends from Lineup Brewing. Drinking that can marked the first time I really got simple, clean lagers. I loved it, and couldn't get enough of it all weekend. As Dan from Beer Karma knows, my obsession didn't stop there: Dan kept Metric stocked as often as he could, and whenever I'd stop into BK, Metric would be my first and last beer of the night. Often enough it'd be every one in between, too.
Honorable mention goes to More Brewing DDH Dusty & Hop Butcher Dun Dun Dun, because they're both nailing the hazy IPA here in Chicago and it's eased my yearning for the NYC Brewers' NEIPAs.
---
Rex Craft | Customer Success
Located up the Hudson River from NYC, Industrial Arts puts out a ton of great beers, but this has gotta be my favorite this year.
I live in Brooklyn, but travel back home to the Nutmeg state (Connecticut, obviously) quite often. I can find Power Tools with regularity in either location, and I can't convey how nice it is that there's a fresh, well-balanced IPA reliably available in both locales.
Oh, and my dogs like Power Tools, too. (And, just for that sentence, feel free to read "Power Tools" as capitalized or not.)
---
Alex Barbara | Developer
Over the past few years I've become a huge fan of Weyerbacher Brewing in Easton, Pennsylvania. I first discovered how great their beers could be when I had their Merry Monks Tripel at the Jolly Monk in Hell's Kitchen NYC. I like Belgian Tripels in general, and this is one of my favorite of the style.
As great as that experience was, though, my favorite beer is still their Quad. It's a repeat of my selection from last year, but that's just how good it is! It's only released seasonally, so I make sure I stock up whenever it's available.
---
Suneet Bhatt | Growth Adviser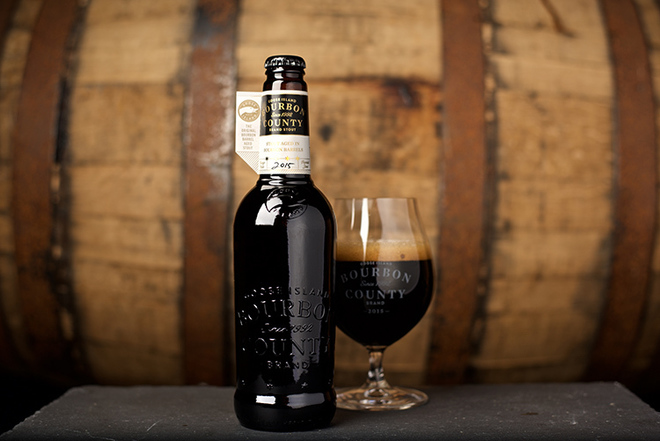 Photo courtesy of Goose Island.
Dark, so dark as night. The kind of dark Billy Joel would sing about.
There's nothing I need to say about this beer that hasn't already been said, but I'll say a few lines anyway. BCBS is the beer that made me a beer lover. Drinking it taught me that what you could do with and to a beer was boundless. I first stumbled across it at The Waterfront Ale House on 30th Street and 2nd Avenue in NYC (great food, great beer, great environment) a little less than 15 years ago.
Those were the glory days: back then they served it in full pint glasses. I quickly learned that when putting those back, I'd be much better off sitting on a four-legged chair than a stool. I used to build my Black Friday schedule around the beer's release, but now the lines at Top Hops start at 10pm the night before — so I usually settle in there for the basics and none of the variants.
---
Check back tomorrow for our Most Popular Breweries of 2017 list!