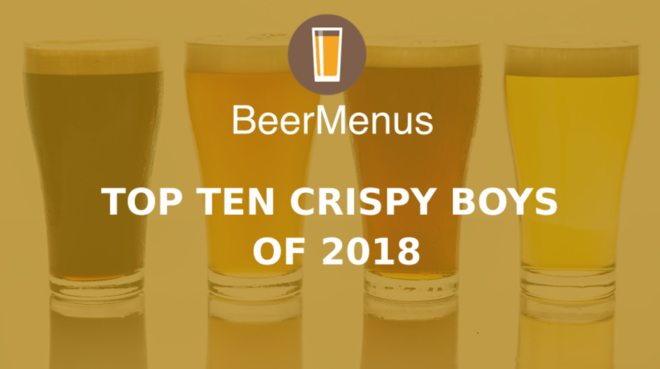 Crispy Boys. Those easy drinking lagered beers that always have a time and place—at the beach in the summer heat, around the camp fire with Pops, toasting a solid hike in the trailhead parking lot.
Even in this era of juicy IPA escalation, the whole BeerMenus team has a big place in it's collective heart for Crispy Boys. But, while all of us enjoy a good Crispy Boy, there's one member of our team—Rex, our head account manager—who's by far the Crispiest. Here you'll find Rex's top 10 Crispy Boys of the year.
Sidebar: we thought there was no better way to show our love for Crispy Boys than making a neat-o t-shirt. Check out our store on Teespring to grab one for you and your Crispy buddies!
---
Pilsner • Downington, PA • 5.3% ABV

Image courtesy of victorybeer.com.
Don't sleep on this one. While Victory's definitely been around the block a few times, they're still contributing this great pilsner to the beer world. I always keep my eyes out for the green label when I'm grabbing a six pack. Don't forget the beers that helped pave the way!
Pilsner • Denver, CO • 4.9%

Image courtesy of trvebrewing.com.
Sometimes what makes a beer great is when it arrives in your hand. For Cold, it was after methodically working through the room at the Extreme Beer Festival and drinking more BA Stouts in an hour than my liver would prefer in a year. The perfect palate cleanser, extreme because it was simple in a room of radical beers, I'd love to relive that first pour every day.
Pilsner • Framingham, MA • 4.8% ABV

Image courtesy of jacksabby.com.
This beer is true to title. The thought here for a crisp and bright pilsner was smart, and the execution is great. The perfect beer after a hard day's work. (Try and track down Jack's Abby House Lager, too!)
Pilsner • Brooklyn, NY • 5.2% ABV

Image courtesy of threesbrewing.com.
I'm a Brooklyn resident but a CT native, so I often find myself hopping Metro North trains to visit family, especially in the summer. The best way to combat that hot transit mess is snagging a beer for the final leg. I had the pleasure of picking up a Vliet a couple summers ago on this endeavor and it really got me back into the Crispy Boy world. Drink this one whenever you can, whether you're on a slog commute or not.
Pilsner • Chicago, IL • 5.8%

Image courtesy of halfacrebeer.com.
Highly touted by my colleague and former Chicago resident, Gage, this is a solid Crispy Boy that's widely available. The fine folks at Half Acre continuously and consistently churn out this great pilsner without sacrificing any quality. Nice bright color and flavor, if this one's available, chances are I'll order it. Find me drinking a Pony Pilsner with a Bee Sting Pizza at Roberta's in Bushwick, Brooklyn.
Helles Lager • Everett, MA • 4.3% ABV

Image courtesy of brewbound.com.
I love that Nite Lite comes in 12 pack cans. This year it was a personal favorite whenever I had to provide drinks for my deadbeat friends. I can't describe this beer better than the Night Shift team: It's time to rethink light beer. Right now there's too much overlap - bland flavors, redundant branding, macro-brewery after macro-brewery. You deserve better than this sea of sameness, and Nite Lite is our way to raise the light beer standard. Spot on.
Pilsner • San Diego, CA • 4.7% ABV

Image courtesy of moderntimesbrewing.com.
Over the summer we attended an event called "Pils City" at Interboro Spirits and Ales in Brooklyn. First off, I loved the event. Second, Ice stood way out from the pack at the event. A West Coast treat for my east coast palette, this beer brings a ton of flavor to a classic style. I'll cross my fingers and hope they keep sending it this way.
Pilsner • Garnerville, NY • 4.7% ABV
The aforementioned Gage, Dan, (owner of Beer Karma, one of our favorite Brooklyn spots), and myself were lucky enough to take a trip up to Garnerville, NY this summer for a tour of the Industrial Arts facilities. The amazing brewery space and outdoor scenery was great, but the true highlight was taking the tour with a Metric Pilsner in hand. These bad boys were minutes old, right off the canning line. Fresh and delicious, Metric is a fantastic stand-by from one of my favorite breweries.
Pale Lager • Milwaukee, WI • 4.7% ABV
The Champagne of Beers, this one's an obvious choice. During the writing process I was actually able to grab the newest promotional High Life bottle from Miller, a gold foil wrapped, 750ml bottle. While objectively not the best beer on the market, this was a must have for me as soon as I saw it. The ultimate dive bar beer, it serves as the perfect compliment to any 'beer + shot' combo at your local bar. The great granddad of Crispy Boys.
Lager • Providence, RI • 5% ABV
Not the prettiest picture. But those right there are two 'Gansetts getting drunk at the source. Gotta document and share that.
It's good to know that when I inevitably tire of drinking DIPAs and imperial stouts out of glass thimbles, I can always count on my neighbor: Narragansett's classic Lager. Perfect for any situation—from a party to a seafood dinner—it's my favorite no-nonsense beer out there. Plus you can't beat a 6-pack of tallboys. It's a crisp and refreshing tip of the cap to New England. Made on Honor - Sold on Merit. No doubt, 'Gansett. I love ya.
---
I'd be remiss if I didn't again mention my favorite clothing item of the year: the Crispy Boy t shirt:
That's right! You can order your very own Crispy Boy t-shirt! You bet your ass I have one, and so does everyone on the BeerMenus team. So grab one today to strut your Crispy Boy love and join us in supporting the craft Crispy Boy movement!
Finally, if you like what you see here, be sure to share this article with your Crispy friends!
About the Author


Rex Craft is the lead account manager at BeerMenus. He loves manatees, Crispy Boys, and his family's Jack Russell terriers.