Honestly, there weren't a lot of surprises here this year. Lots of top-notch IPAs. The world's most popular bourbon barrel aged beers. A beer made by Kid Rock.
Wait, what?
Yeah. That's right. The people have spoken, and Kid Rock's Badass Beer made the list. Read on to see where it placed and see the rest of the top-10 Most Popular Beers of 2018!
---
Note: We determined this list by looking at beer page pageviews. Each beer has it's own page on BeerMenus, and due to the nifty realities of 21st century technology, Google tells us how many times each beer page was viewed. These are the top-10 most viewed beers of 2018.
---
American Badass Beer Company | Pale Lager | 4.2% ABV

Image courtesy of American Badass Beer.
I've been doing this list for three years now, and though this beer doesn't really fit with the rest, I can't say I'm surprised to see it. After all, in 2016 we saw a Stone Cold Steve Austin beer crack the top-10.
The biggest personal thing those two beers have in common is my dad, Craig. He's a biker (as in motorcycles), and once shared a few beers with Steve Austin at the Sturgis motorcycle rally. A few years later he saw Kid Rock perform at Sturgis and promptly fell in love with his music. Possibly including the classic Bawitdaba.
This is a strange world.
---
Founders Brewing Company | Bourbon Barrel Aged Imperial Stout | 12.3% ABV
Absolutely no surprise here.
Founders' obvious increase in KBS (and it's upstanding Canadian cousin, CBS) production has been fantastic for me. Having recently moved back from Brooklyn to Madison, WI, I love the fact that I can still snag a few bottles, even if I don't get there within an hour of its arrival on the shelves.
Cheers to that, Founders.
---
Stillwater Artisanal Ales | Sour Ale | 4.5% ABV

Photo Courtesy of Stillwater Artisanal Ales.
This was our team member Rex's favorite beer of the year, but given his Crispy Boy proclivities it couldn't be only his searches that shot this one up to number 8 on the list.
A collab between chef/rapper Action Bronson and heavy hitters Stillwater Artisanal, it's a sour ale brewed with muscat grapes. The goal: create a beer that fit the taste preferences of the wine-loving Bronson.
Goal accomplished.
---
Industrial Arts Brewing | NE IPA | 6.8% ABV

Photo courtesy of @industrialartsbrewing.
I love seeing this one on the list for two reasons. First, we love the folks at Industrial Arts, who've been extremely kind and great to work with.
Second, and more targeted to the beer itself, Wrench is widely available and always fresh. That's not something you can say for a lot of the highest quality Northeast IPAs out there.
I'm gonna go ahead and say that again, just to make sure everyone understands the import here: you can have a fresh Northeast IPA of the highest quality as your standby.
I speak for the entire BeerMenus team when I say that I support this wholeheartedly.
---
3 Floyds Brewing Co. | American Pale Ale | 6.2% ABV

Photo courtesy of @3floydsbrewing.
Another year-end-list veteran that I probably don't need to describe. Trippy label. Super solid OG hoppy standout. Citra shrine.
I had my first couple Zombie Dusts of the year just a week ago. They were tasty as ever, and I'm always glad to see Midwestern breweries hold firm on the list.
---
Lawson's Finest Liquids | Double IPA | 8% ABV

Image courtesy of Lawson's Finest Liquids.
A perennial member of the top-10 list, Sip of Sunshine also saw increased availability in recent years. There's no clearer evidence of that than the fact that you can now track down this one to-go at Penn Station in NYC.
A couple years back you'd have to wait for that BeerMenus push notification to figure out where it was, and it'd be gone within an hour. As of publishing, 268 places report having it within 50 miles of New York City.
Some hype beasts might hate that, but I love it.
---
Bell's Brewery | Double IPA | 10% ABV

Image courtesy of Bell's Brewery.
When Hopslam season rolls around (January, so 2019's is coming soon!) it's always fun to see it arrive on the shelves.
For me the lime green six pack now smacks of January, as does the label: some poor, dungaree-clad sap who just got Wicked Witch of the West-ed by three gigantic hop cones.
The chuckle that always elicits helps get a guy through January in the Upper Midwest.
---
Boston Beer Company | Barleywine | 25.5% ABV

Image courtesy of Boston Beer.
Last year Utopias was number 1 on this list, and it was a close shave that dropped them to number 3—only 5,000 page views separated Utopias from the top spot.
This ultra rare, ultra expensive high octane beer is meant for special occasions, and if you've been so lucky as to taste it, you know why. It's flavor profile lies somewhere between a barleywine, a port, and a sweet amaro.
The ideal scene for drinking Utopias: In medieval times, in a king's court, having just finished your roasted turkey leg.
---
Alchemist Brewery | Double IPA | 8% ABV

Photo courtesy of @alch3mistb33r.
Without the Alchemist's trailblazing, it's unlikely that the Haze Craze could have ever gained so much steam.
Like other beers on this list, Heady Topper's also much more available now—gone are the days where your only recourse was driving up to Vermont.
And, judging by the jump in popularity over last year (Heady Topper was number 10 on last year's list) evidently their production expansion has helped drive more interest: "well, now that I can actually get it, I guess I'll search for it!"
---
Goose Island Beer Company | Bourbon Barrel Aged Stout | 13.7% ABV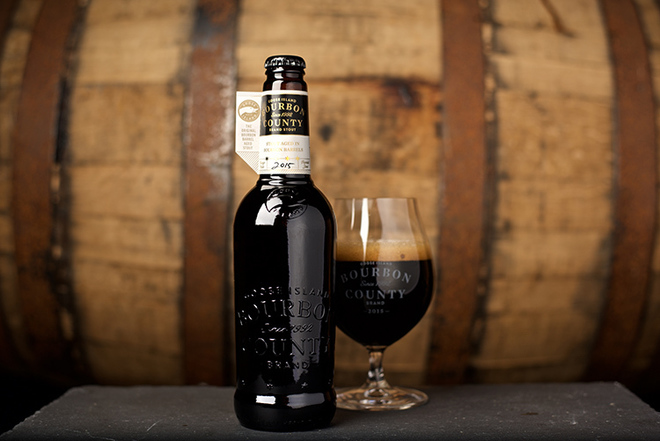 Image courtesy of Goose Island Beer Company.
Last year Bourbon County was number 4 on this list, so making the jump to number 1 is pretty impressive.
After the inevitable familial tumult of Thanksgiving, it's nice to know that grace awaits fewer than 12 hours in the future: greeting the employees at your favorite liquor store as soon as they unlock the doors the morning of Black Friday.
You've gotta get there early if you want to snag your allotment of Bourbon County!
---
Like the list? Share it!
Post the list to Instagram, Facebook, or Twitter and we'd be forever grateful.
---
About the Author
Dylan Blake is the Head of Marketing at BeerMenus. He likes fitting words together, getting grammar to a place where only serious nitpickers can take umbrage, and taking walks in the woods.