Digital beer boards are attention-grabbing, easy to read, easy to update, and always display your accurate drink menu. This makes the ordering process more efficient, leading to a significant increase in beverage sales.
But how difficult is it to make the switch to digital?
The answer: It's not difficult at all—it's simple! Read on to see just how easy it is to get your own digital beer board up and running at your business.
---
Want to skip the read and talk to a Beer Board expert instead?
Schedule a free Digital Beer Board Consultation. We'll discuss how the beer board works and walk through the setup process.
---
This article will outline
Design options
Setup process
Equipment
Updating process
Promoting specials and events
Other beverage categories
Designs
You can completely customize the look and feel of your digital beer board with textures, patterns, fonts, logos, and branding. Designs range from rustic to modern and can include logos, specials, social media call-outs, and events.
Setting up your menu takes minutes- all you have to do is add the beers you currently have to get started. Start adding the beers you have and view beer board templates.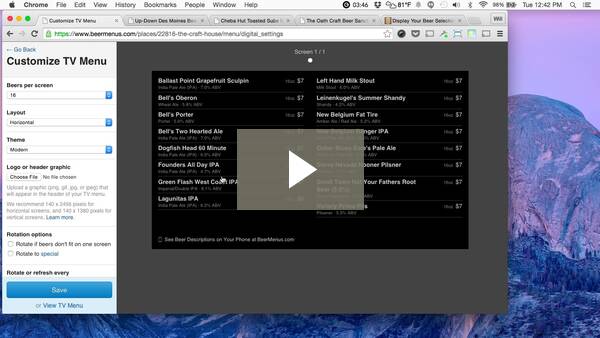 Equipment
The only equipment you need is an Asus Chromebit (~$83), which is about the size of a pack of gum and plugs into the HDMI port in any TV, and a keyboard/mouse.
Updating Process
You can easily update your menu from anywhere on your phone, tablet, or computer. You can also give your staff the ability to update the TV displays on their own phones so they can update the displays whenever a tap is changed or a new beer is stocked.
Posting Specials & Promoting Events
Posting full screen specials on your TVs is a great way to promote upcoming events or special offerings. It's easy to reformat the graphics for any event posters you make for your TV display. You can upload this graphic from any device to instantly update your TV.
Example Special Designs
Can I include beverage types besides beer?
Yes! Digital Beer Boards include support for all beverage types.
Preview Your Beer Selection In A Digital Beer Board Template
It's extremely simple to preview how your digital beer board. Just follow the steps below and you'll be able to preview your beer board without having to talk to a single person.
Add the beers you currently have.

Head to the 'Customize Digital Beer Board' previewer screen to use the self-serve interface to select templates, fonts, upload logos, and upload specials.

---
Want a beer board expert to design your preview for free?
Schedule a free Digital Beer Board Consultation. We'll discuss how the beer board works, walk through the setup process, and work together to create the design you need.